Food support will be continued
We are asking for monetary assistance, donations of food and other items for this program.

 In order to support the foreign nationals who are struggling due to losing jobs or having difficulties in returning their home countries due to the effects of COVID-19, we have started this food distribution project. Since the start on June 9th, 2020, many people have donated and we were able to hand out food to many foreign nationals in need.
We found out, however, through the survey we conducted from October 1st to 15th, 2020, that there are many foreign nationals still in difficult situation, and decided to continue food distribution.
We would, therefore, like to ask you for your generous contribution.
---
Support us with a Monetary Donation
Your donation will be used to purchase food and daily necessities.
※Individual donations are tax deductible.
There are 2 ways to donate.
Make a one-time donation for this project
Your donation will be used to perchace food and d
aily necessities.
Please donate any amount.
Become a supporting member to the work of the International Communication Plaza
At the Sapporo International Communication Plaza, foreign nationals and Japanese people living in Sapporo learn to live and work together across their differences. We are working towards the realization of a culturally symbiotic society. We would be grateful for your continued support.
Sapporo International Communication Plaza Supporting Members
 Annual Fee: Individuals: 3,000 yen per person; Corporate members: 20,000 yen per person
Support through Donating Supplies
【Supplies we need】
●Foodstuffs:
-Rice, pasta, dried noodles (udon, soba)
-Canned food (tuna, corn, beans)
●Daily necessities:
-Toilet paper, shampoo, conditioner, soap.
-Designated garbage bag of City of Sapporo
-Disposable unwoven Face Masks, hand sanitizer
*There must be at least one month to go before the expiration date.
*Items must be unused and unopened
【How to donate】
●Please send or bring in person (if you send by mail, you are responsible for the shipping costs)
●Reception: Until the end of January, Weekdays 10:00-16:00
●To:Sapporo International Commmunication Plaza Founsation
Sapporo MN Bidg. 3F, Kita 1-Jo Nishi 3-chome, Chuo-ku, Sapporo060-0001
(1 minute walk from Exit 9 of the Sapporo Ekimae-dori Underground Walkway.)
*We do not have parking lot for car. When coming by car, please use nearby pay parking lot.
---
Contact & Inquiries
 Sapporo International Communication Plaza Foundation 
---
🔶🔶🔶🔶🔶Former Activities🔶🔶🔶🔶🔶
 We distributed food and daily necessities to foreign nationals 6 times from June to July at Sapporo International Student Center, and four times from August at Sapporo International Communication Plaza. At Student Center, total number of 49 international students helped us in sorting food and daily necessities. The plaza also entrusted Hokkaido International Foundation (Hakodate) with distribution to fareign nationals in
Hakodate area.
Number of Recipients
(Total of 1,892 parties 3,242 people)
*Numbers for April 9, 2021 will be reported soon
Location

Date
Parties
persons

Communication Plaza Foundation

August 7 (Fri)

August 21 (Fri)

November 20 (Fri)

December 25 (Fri)

YEAR 2020
February 19 (Fri)
April 9 (Fri)

109
128

199

189

214

-

232

331

369

340

366

-

Hokkaido International foundation

August 2 (Fri)

30

30

Others

185

476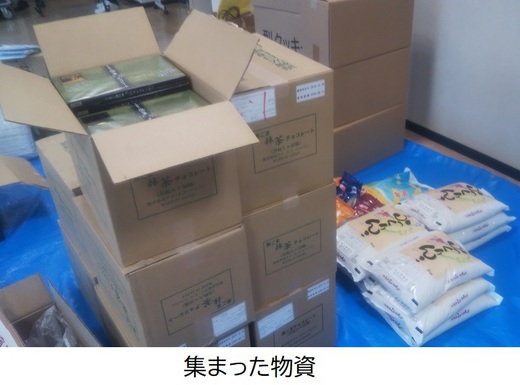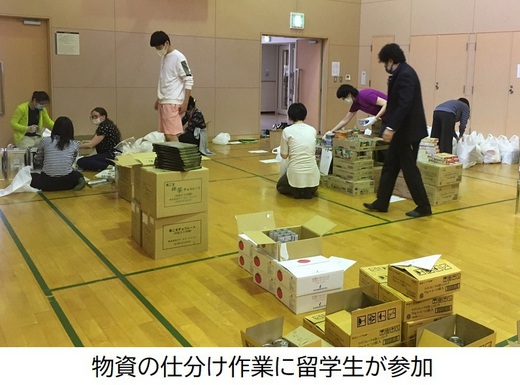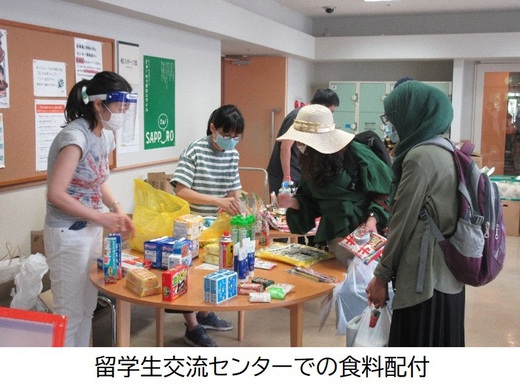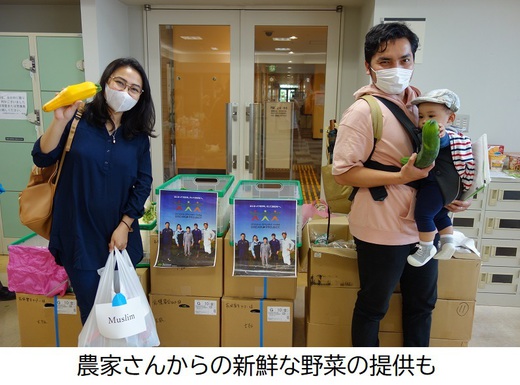 Comments from the recipients
・Since we are unable to return home and cannot work, we have not be able to give enough food to our children. This helps us a lot.
・My parents in my country are struggling as well and had to stop sending me money. This food is a big help.
・So many citizens have donated, and I was able to receive so much food. It warms my heart.

Donated money:6,038,000 yen(from 238 people)
Donated supplies:from 330 individuals/companies
(As of April 16, 2021)
List of individuals and groups who donated
(Those who agreed to make names public)
水口 綾香 さん、 佐々木 春代 さん、 國田 裕子 さん、 カク 艶竹 さん、 井浦 功雄 さん、 杉山 陽子 さん、 中公 光政 さん、 梶原 隆 さん、 片岡 晃 さん、 伊藤 蘭 さん、 斉藤 卓三 さん、 大貝 真菜 さん、 松本 克博 さん、 中村 和司 さん、 柳瀬 明子 さん、 本正男商店 さん、 向島 みどり さん、 美藤 加代子 さん、 榎本 真澄 さん、 村木 洋子 さん、 山崎 紀子 さん、 山田 健 さん、 森 幸一 さん、 松浦 眞知子 さん、 出口 ゆかり さん、 菅原 恵 さん、 長谷川 裕一 さん、 北海道ムスリムインバウンド推進協議会 for Muslim Vegan Vegetarian さん、 菊池 園子 さん、 佐藤 学 さん、 株式会社ギベオン さん、 岩田地崎建設株式会社 さん、 松島 典子 さん、 中村 考志 さん、 Gallego Michael さん、 株式会社プリプレスセンター さん、 佐藤 智朗 さん、 藤山 道子 さん、 松島 直子 さん、 中野 勝枝 さん、 山口 弥生 さん、 井上 紀子 さん、 エドワーズ・シンシア さん、 三上 有美 さん、 菅原 ルリ子 さん、 川端 悠紀子 さん、 神谷 志のぶ さん、 松本 昇洋 さん、 日本語ボランティア「窓」有志 さん、 奥山 真由美 さん、 今田 律子 さん、 行啓通商店街振興組合 理事長 藤井礼子 さん、 ㈱森林舎 代表 渋谷治範 さん、 ヤマダイ㈱ さん、 朝倉 妙子 さん、 岩崎 美子 さん、 札幌聖心女子学院 さん、 北海道日中友好協会・札幌日中友好協会 さん、 佐藤水産㈱ さん、 山下 芳香 さん、 大通高校遊語部 さん、 加藤 由紀子 さん、 伏木 康 さん、 弁護士法人T&N長友国際法律事務所 代表弁護士長友隆典 さん、 山下 明子 さん、 加藤 玲子 さん、 藤田 直樹 さん、 有限会社 大塚ファーム さん、 大村 和夫 さん、 内田 幸子 さん、 橋爪 幸子 さん、 藤木 道子 さん、 工藤 由美子 さん、 外国語ボランティアネットワーク カウンターユニット有志一同 さん、 札幌国際プラザ YOU & ME クラブ さん、 武田 みどり さん、 こども食堂北海道ネットワーク さん、 高木 未央 さん、 西岡 悦子 さん、 丸山 和子 さん、 北区役所 北友会 さん、 まるとみ酒販 さん、 北星学園大学 さん、 栄町中央商店街振興組合 さん、 福崎 紀子 さん、 後藤 道 さん、 野村 さおり さん、 渡辺 暉也 さん、 山田 弘子 さん、 尾﨑 弘康 さん、 吉田 亜希 さん、 総和会(札幌市総務局役職者会) さん、株式会社美容室桜井 さん、株式会社北翔 さん、在江別(北海道)フィジー共和国名誉領事 清水誓幸 さん、株式会社北海道アルバイト情報社 さん、札幌国際プラザ役職者会 さん、福山醸造株式会社 さん、七戸 治 さん、ビッグイシューさっぽろ さん、渡辺 まきこ さん、木村 幸子 さん、篠野 悦子 さん、大内 敏史 さん、高橋 晶子 さん、横山 和枝 さん、塩谷 真澄 さん、㈱オリエントコーポレーション札幌管理センター さん、渡辺 暉也 さん、藤井恵子 さん、鈴木 千鶴子 さん、在家 美代子 さん、三上 早苗 さん、秋場 美津子 さん、松島 功・直子 さん、琴似中央通教会 さん、特定非営利活動法人ハンズハーベスト北海道 さん、飛んでけ、車いすの会 さん、伊東 充 さん、吉田 隆一 さん、青野 冨美枝 さん、鈴木 千絵 さん、小川 佳恵 さん、樋口 彰 さん、西岡 悦子 さん、タケダ エミコ さん、宇佐美 礼子 さん、株式会社 牧家 さん、余湖農園 さん、札幌キワニスクラブ会長 林 誠 さん、本間 恵理 さん、桑田 和栄 さん、在札幌ドイツ連邦共和国名誉領事事務所 さん、香川 光一 さん、株式会社タンゼンテクニカルプロダクト 代表取締役社長 大湯晃弘 さん、市民活動プラザ星園 さん、(有)道新ながさわ 市川隼 さん、寺田 百合子 さん、日糧製パン(株) さん、池田食品 さん、北大COMMON さん、クラーク記念国際高等学校 さん、岩佐 和恵 さん、宮本 佳世子さん
Other Support
・Hokkaido International Exchange and Cooperation Center (HIECC) assisted this program with translation.
・This program is supported by the Mitsubishi Foundation & The Central Community Chest of Japan. (As of September 10th, 2020)
Thenk you for your generous support!